EverlyWell places the lab testing process into your hands. With their convenient at-home sample collection process and your results delivered to you on their secure platform in just days – it has never been easier to take control of your health.
Shop Sleep and Stress kits at EverlyWell.
Shop Food Sensitivity Test 96 foods at Everlywell.
Shop Food Sensitivity Comprehensive Test 204 foods at EverlyWell

Single Marker STD Tests: Test HIV, Chlamydia and Gonorrhea, Hepatitis C, Syphilis, and Trichomoniasis from home
Shop Postmenopause hormones (estradiol and progesterone) at Everly Well.
Shop Women's Health– check 11 hormones!
For only $24.99 a month, our new membership program – dedicated to proactive testing – puts your health in your hands. Cancel anytime. Certain tests are included.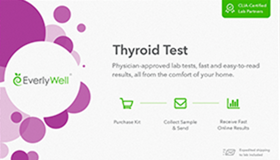 Thyroid Test(Regular Price $99)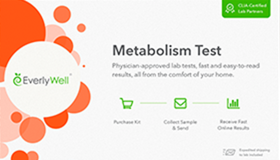 Metabolism Test(Regular Price $49)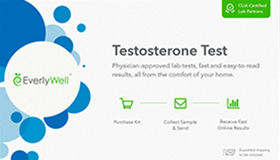 Testosterone Test(Regular Price $49)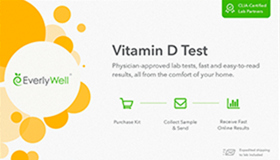 Vitamin D and Inflammation Test(Regular Price $99) Vitamin D and hs-CRP which is a measure of C-reactive protein (CRP), a protein that the liver makes when there is inflammation in the body.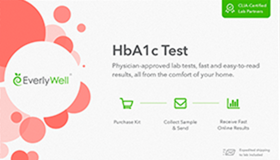 HbA1c Test(Regular Price $49)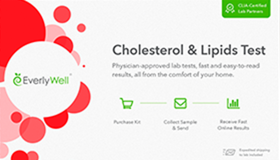 Cholesterol and Lipids Test(Regular Price $49)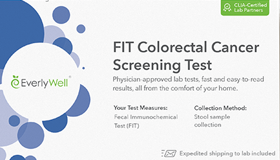 HPV Test – Female(Regular Price $89)
EverlyWell tests are HSA and FSA eligible, which means you can pay for them with your pre-tax dollars, so even more savings! They accept direct HSA/FSA payments and all major credit card.
Convenient: No need to take time out of your busy schedule, collect your sample from home and on your own time.
Detailed Explanations and Actionable Insights: Easy-to-read results make it easy to understand what factors could be affecting your health. Results include detailed information and links to additional information so you can make the best choices for a healthy life.
This company offers testing services across various concerns, such as food sensitivity, cholesterol and lipids, allergies, and both women's and men's fertility.
1. Order your kit
First, you'll choose a test. After you request your kit, your order will be reviewed and approved by a provider in your state.
2. Take your samples
The kit will come with instructions and the items you need to take samples at home. Depending on the test, you may need to take a blood, stool, saliva, or urine sample.
Everlywell has several online videos to show you how to take samples at home.
3. Send your samples to the lab
Each testing kit comes with a plastic biohazard bag and a prepaid shipping label so you can easily send your samples in for testing. Please remember to write your name, collection time, and collection date on the bag.
4. Get your results online
You'll get an email when the results are ready, and you can access the information via your Everlywell account.
Some tests come with included telehealth consultations with a doctor. You can also share results with your doctor.